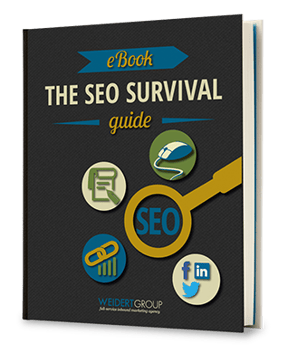 With each year, new changes to search engines and social media make SEO maintenance an increasingly difficult task. Strong SEO in 2014 requires up-to-date information on content creation, link-building, and search engine research.
Download this FREE SEO Survival Guide to get the skills in these important areas of SEO management:
Proper search engine research and the most significant Google updates

Content creation and on-page techniques that are relevant to increase SERP rank

Link building that is easy to grow and effective in the long term

Social media techniques that will boost your profile and your overall web performance
Follow this 18-page guide for boosting SEO, and you'll be sure to gain more qualified traffic, more qualified leads and more customers!
To download your FREE eBook, simply fill out the form to the right.